Generate high quality lead on professional network
Table of contents
Introduction – the why
Organic traffic

Company page
Joining groups
Showcase page
Hashtag your post
Content marketing on LinkedIn
Content posting schedule

Paid traffic

Pros and cons of LinkedIn ads
Ad units
Ads targeting
Advanced targeting tactics

Conclusion
Introduction – the why

Real estate agents are familiar with advertising on social media nowadays. Facebook, Instagram and Pinterest are most popular platforms for real estate marketing.
The competition among different advertisers is getting more and more fierce. The ad cost is surging while the quality of leads is not guaranteed.
LinkedIn is a social media network for professionals. People update their profiles on LinkedIn frequently even if they are not in a job-hunting stage. It's a great place for advertisers to find target customers by using the job title and seniorities.
Real estate agents in commercial sectors could easily build connections with the decision-makers of a company by targeting C-suite in job seniorities.
As for residential real estate agents, building a strong online presence with high-end listing could help to improve the image of their property agency. Lead generated will be of higher quality.
Organic traffic
If you are a real estate agent and begin to build a profile on LinkedIn, make sure you have set your LinkedIn profile properly. When you have your personal profile settings, you can then use the following method to gain organic reach: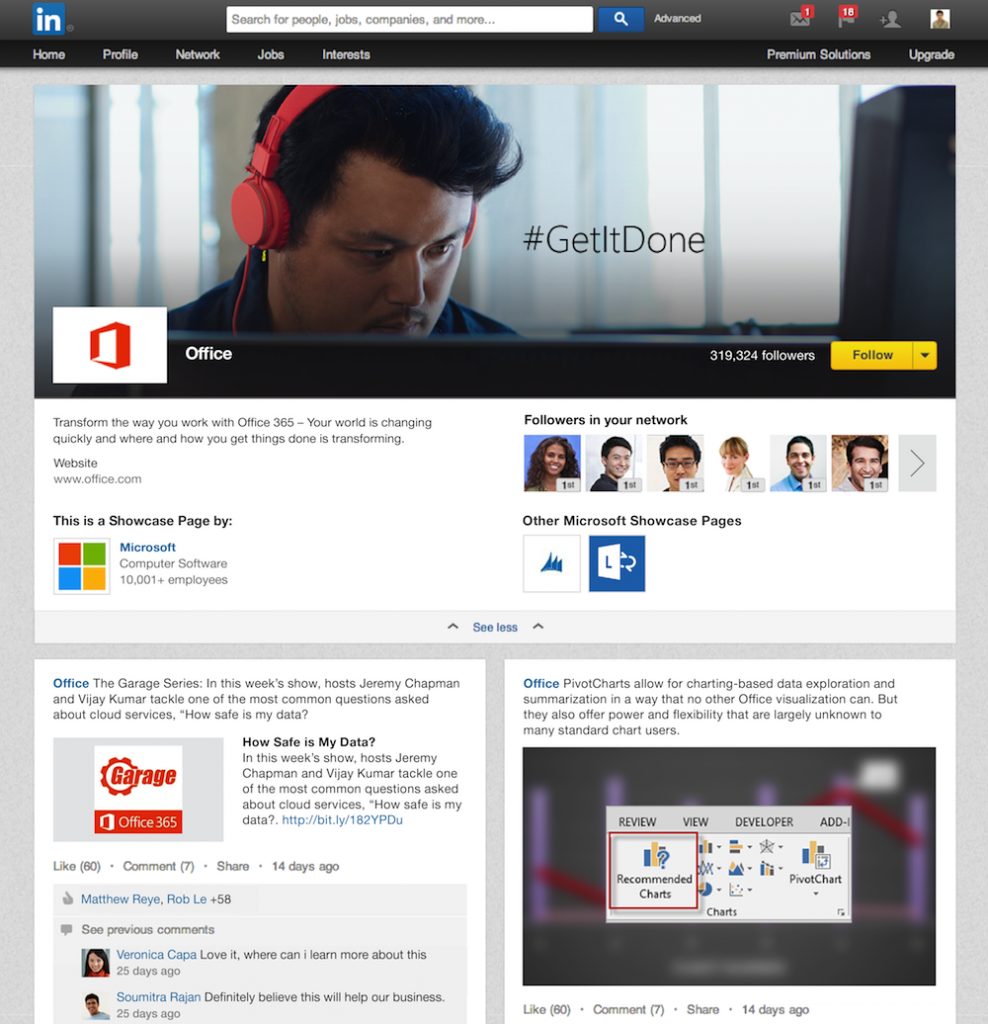 Company Page

You could build a linkedin presence by building a company page. You can post text, images and jobs on behalf of your company.


Joining Groups

Groups are a hub of people who have same interest. People in group can share information about the theme of the group. By joining the groups related to your industry, you can share information about you and your company to position as a thought leader.


Showcase page

If you need a dedicated landing pages for your listing, you will need to create a showcase page. You could use your showcase page to place your listing, or post you blog posts and promotional offers.


Hashtag your post

Every time when you post, add 1-2 hashtag by using related keywords can help people to discover you post by searching or following the topics of the keywords.


Content marketing

Remember interesting and informative content is always the key to be successful in gaining organic traffic. Beside the service and listing of your company, you can share some information about your local communities or news on your real estate market.


Posting schedule

Sustainable daily posting could help you to brand yourself, build visibility and trust in front of fellow linkedin users. You could post lighter contents like new listing or marketer updates everyday. For more comprehensive content, you could post on weekly or monthly basis.
Paid traffic
Google and facebook are most popular channel for paid advertising. Google ads is keyword based while facebook is interest based. CEOs would have the same search intent or interest as janitors. LinkedIn could make sure you spend every dollars on the right people due to their seniorities.
Pros and cons of LinkedIn ads

Pros
– robust targeting – the profile of LinkedIn users are up-to-date, you can target audience by their job function and seniorities
– business mentality – unlike facebook, LinkedIn is a social media where people tend to focus on business
– no gatekeeper – usually you could bypass secretary and directly reach the C-suite
Cons
– Ad cost is much higher than other paid media channel
– No day-parting – you can not choose what time the ads show up
– No device-level bidding – you cannot raise the bid for mobile users
– No expose relevancy score – it's hard to measure if your ads is relevant
If you want to be successful in your social campaign, you need:
– right audience

– persuasive message

– attractive offer
Ad units

There are many type of ads units:
– text ads
– right rail
– news feed
– sponsored InMail
– lead generation form ads
– video ads
Most preferred ad formats are news feed and sponsored InMail. For spondsored inmail, the average open rates is about 50%. It would send straightly to a personal profile.
Lead gen ads have high conversion rate and video ads has larger influence to audience, but LinkedIn does not provide retargeting option for both type of ads.
Ads targeting

We can target audience by their:
If you are targeting individual, you could target by their:
– Job titles
– Group (+ Seniority)
– Job Function + Seniority
– Skills + Seniority
Advanced targeting tactics

When targeting skills or groups, remember to exclude sales, business development and marketing job functions in order to keep out people who are trying to sell.

When targeting small business, try to exclude larger company sizes rather than including the smaller. It would results in 3 to 4 times more reach because people without a page will also be included.

Using seniority instead of age or years of experience. Age and years of experience are both guesses. Seniority is based on title or industry.

Avoid audience expansion which is enabled by default. LinkedIn is not doing audience expansion and retargeting very well.
Conclusion
Both commercial and residential property agents should make good use of different social media channel to market themselves.
Lead generation in LinkedIn would definitely be more profitable if you are selling high end real estate.
By building online presence on LinkedIn would build a professional image among people in real estate industry and help the recruitment for your company.
If you are interested in advancing your skill on buying LinkedIn Ads, I would recommend you go to CXL to attend the course by AJ Wilcox.
https://cxl.com/institute/online-course/linkedin-advertising/